2021 International Gems and Jewelry Academic Conference has been hold online on 19th to 20th November 2021 at 14:00 to 17:00. With the theme of 'Innovation, Empowerment, Wisdom Future' , this academic conference was hosted by National Gems & Jewelry Technology Administrative Centre (NGTC) and Gems & Jewelry Trade Association of China (GAC), co-organized by China University of Geosciences (Beijing), China University of Geosciences (Wuhan), Peking University School of Earth and Space sciences, Sun Yat-sen University School of Chemical Engineering and Technology, Tongji University School of Ocean and Earth Science、The Gem and Jewelry Institute of Thailand (GIT) , Gemmological Institute of India (GII), Gubelin Gem Lab (GGL), and undertaken by NGTC Evaluation Technology Innovation Center.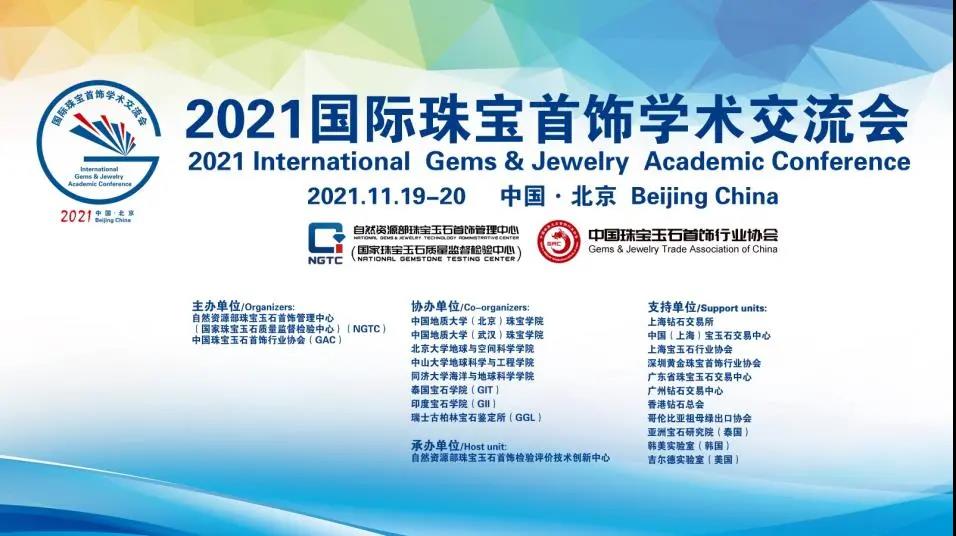 International Gems and Jewelry Academic Conference is an academic event in the jewelry industry, being held every two years since 1994, and this year is the 15th. Aiming at promoting the academic research, technological innovation, and to exchanging and sharing the latest research results, International Gems and Jewelry Academic Conference has become a world-known authoritative academic exchange platform recognized by the jewelry industry.
In these two and a half days, 18 experts from China, England, the State, Swiss, France, Japan etc. gathered together to share wonderful academic and research outcomes. The main content covers the latest research results in basic mineralogy of gems and jadeite jade, hot issues on diamonds research, detection technology and mineralogy of colored gems, origin identification of jadeite jade, detection technology of precious metal, detection and evaluation of jewelry and jadeite jade, education and training. There were approximately 21,000 jewelry industry professionals and jewelry enthusiasts participated in the conference online. International Gems and Jewelry Academic Conference has played a positive role in improving the world's jewelry scientific research level and development of the jewelry industry.