Recently, the Beijing Laboratory of the National Jewelry and Jade Quality Supervision and Inspection Center (NGTC) found a sample of "Moissanite" (synthetic moissanite) imitating natural diamonds with a nano-diamond film coated on the surface and immediately launched it. Scientific research on samples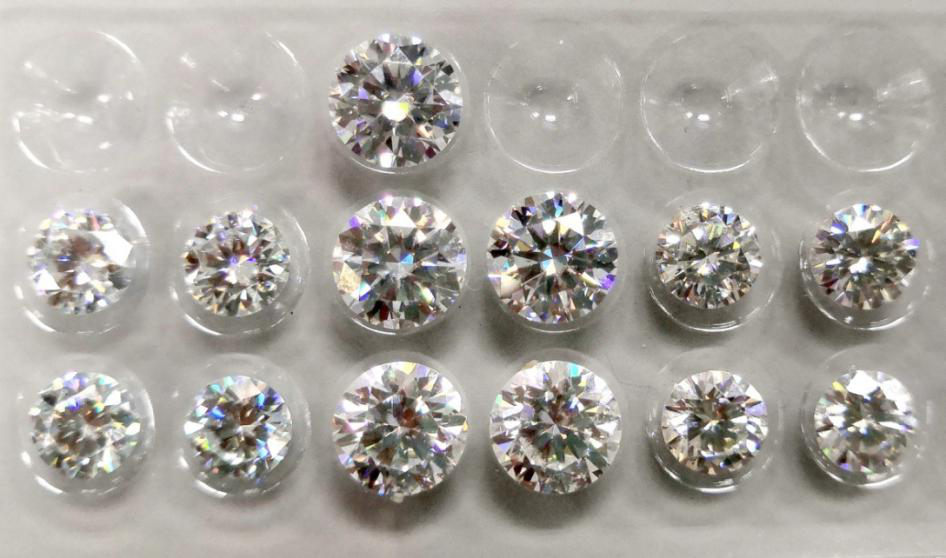 According to Zhang Jian, deputy director of the NGTC Beijing Laboratory, these samples have no abnormalities after routine testing in the laboratory, energy spectrometer, and infrared spectrometer. However, after careful testing by Raman spectrometer, it is found that the specific Raman spectrum In the interval, these samples all have some characteristic peaks that were previously unknown in the detection. Research data shows that these characteristic peaks are attributed to nanodiamonds.
After communicating with the NGTC technicians and the inspection personnel, it is learned that the crowns of these samples have been coated with a film thickness of about 150nm. The purpose of the coating is to improve the surface hardness and transparency of the synthetic moissanite, and then It can achieve the effect of improving the surface scratch resistance and aesthetics of synthetic moissanite.

(Synthetic moissanite coated with nano-diamond film)
According to the relevant regulations in the national standards of "Name of Jewelry and Jade" (GB/T16552-2017) and "Identification of Jewelry and Jade" (GB/T16553-2017), such samples can be named: synthetic moissanite (coated ).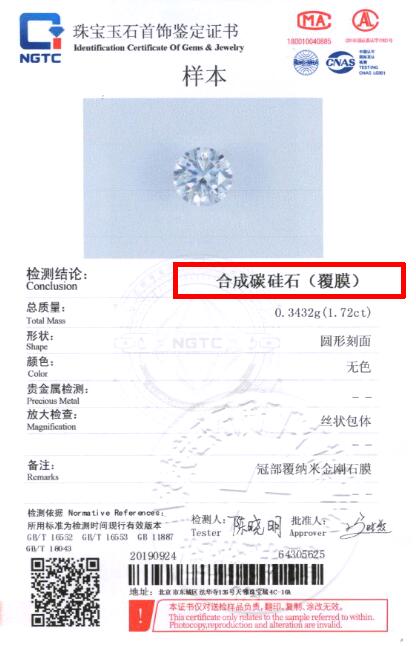 The chief scientist of NGTC, Dr. Taijin Lu, said that the coating technology of synthetic moissanite is different from traditional organic coatings (such as colored jadeite coating) or inorganic coatings (such as topaz coating). It has a layer of only 150nm. Diamond transparent film has extremely strict requirements on coating technology and coating conditions. But please rest assured that the NGTC laboratory is fully capable of detecting such products. At the same time, NGTC has always been a world leader in the scientific research of diamonds and their imitations. At present, the NGTC research team is testing and analyzing the principle of this coating, the particle size of the surface nanodiamonds, and the thickness of the film. For more test details, please pay attention to the follow-up reports on the NGTC official website and the China Jewelry Industry website.